My City
I live in Vienna in Austria. Vienna - or Wien as it is called in German - is the gorgeous capital of Austria. Vienna is synonymous with a high quality of life, good food, beer and wine, music and gemütlichkeit. I have been living in Vienna on-and-off for the past many years and after a stay in New York, I decided to settle down in this magnificent city.
From Above
A view from above over the city.
City Hall
The city hall is located on the ring road and houses so many events all year.
Burg Theater
Vienna is also beautiful when the snow falls. In December, most of the inner city is dedicated to so many christmas markets that I've lost count years ago.
Opera House
The old opera house is a landmark in the inner city. Located at the ring road close to Karlsplatz, a visitor cannot possibly avoid to take notice of this beautiful building.
Donau Kanal
The Donau Kanal that divides the first and second district, is also used for fun purposes. In the summertime, small beaches with beach chairs are right at the waterfront. The "party ships" are open all year, also for Christmas.
View from Urania
The view from the telescope dome at Urania is simply wonderful.
Donau Kanal late summer
The Donau Kanal looks like a post card when the lights from the city reflect in the water.
Wintertime
At wintertime, Vienna actually feels like a small town - everything moves slowly, which has its own charm.
My Neighborhood
Vienna is a very diverse city where each district has its own vibe and charm. This is from my perspective one of the greatest perks of this city, because you can settle down in a district that fits your mindset.
My street
I live in an area of Vienna called Margareten. Located next to Naschmarkt, the door to The Balkans and the entire eastern region is wide open - I love it.
The building
I live in a commonplace apartment building - one of several thousand in this city.
Chinatown
As an extra bonus, Chinatown is only a couple of blocks away and if you fancy chinese foods there are tons of diners, restaurants and supermarkets readily available.
Fish
I often buy fish at Naschmarkt. There are more places to go to and they all stock a wide variety of fresh fish.
Cheese
When I need some cheese, I go to my "Käse-girls", also at Naschmarkt.
My Place
I live in a nice penthouse with a view over the rooftops to the small mountains surrounding the city. The apartment is what is referred to as a "dachboden ausbau". What this means is that the entire roof is removed from an old house, and a brand new apartment is built on top of the building.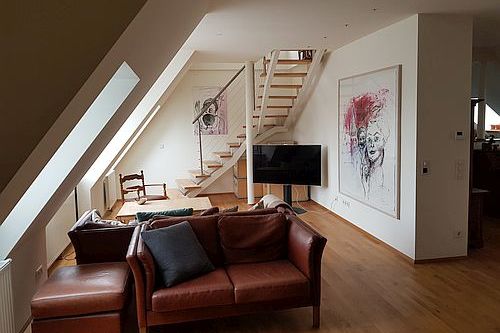 The flat
I have completely renovated the apartment which also gives it a personal touch.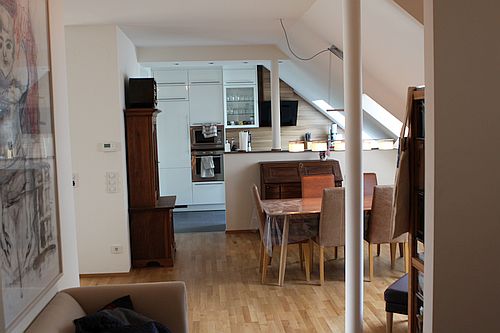 The kitchen
I love to cook fish in my kitchen - although we don't have any coastline in Austria, fresh fish is readily available.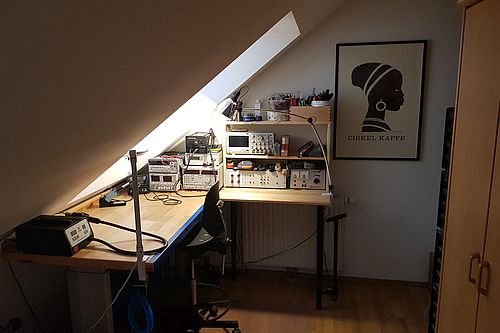 The "Junk room"
An empty room in the apartment has been turned into a combo of a laundry room, workshop and storage.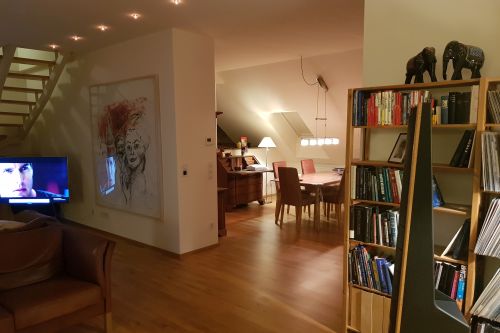 The living room
As the flat spans the entire roof, the living room is quite large and gives it a NYC loft feeling.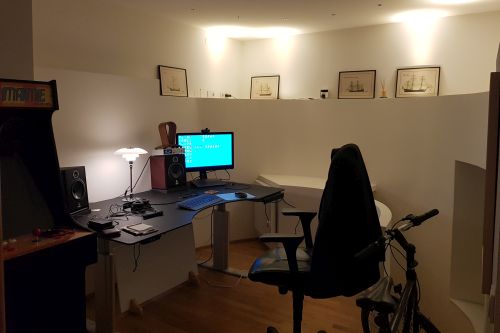 My home office
I love my home office which the former owner cleverly made from a converted storage room.
Sunset
The sun sets over the mountains that surround the city. With a view over the rooftops to the small mountains surrounding the city, I cannot possibly complain.
Terrace at day
It often gets very hot on the terrace so a parasol is a must. On the positive side is that I almost live on the terrace when the weather allows it.
Terrace at night
In the hot summer nights I often use the terrace until midnight.
Beer for one
Just what I needed on a hot day!
Dinner for two
Eating outside simply is a must!
Summer
In the early summer, all the flowers bloom.
Autumn
When the Autumn comes, the leaves on many plants turn a beautiful dark red color.
Winter
Unfortunately the winter in Vienna can be quite cold with loads of snow.
T-Storm
Thunderstorms are quite frequent in the summertime, and make a beautiful show for anyone to enjoy.
Selfie
Selfie on the terrace.
Selfie
The hectic pace in the City with its hustle and bustle is most fascinating - I love to walk thru the first district.
Selfie
Wintertime at the terrace with the low sun at the horizon.
New Year's in Vienna
You can feel the thick ambience of happiness in the city center on New Year's eve.
Contact
My home address
Torben Ring
Kleine Neugasse 13/1/22
A-1050 Vienna
Austria
My location
Skype me
My Skype username is ringdk. Due to spam on Skype, I'm currently running Skype in a closed contacts mode, so you need to exchange contact info to call me or to use the chat option.
Skype me
Mail me
You can send me a mail by clicking the button. If I do not answer, your mail has been deleted by my somewhat aggressive anti-spam filter.
Interests
Ina's paintings
A very skilled young artist, Ina Fasching, lives on the same street as me. I actually met her as I went for a beer in a small "Beisl" across the street. I did not know what she actually did, but as I am a curious person I asked her: What do you do, when you are not serving me beer?
She told me that she was an art student at the famous art school here in Vienna. Of course I wanted to see her paintings, and I liked them very much.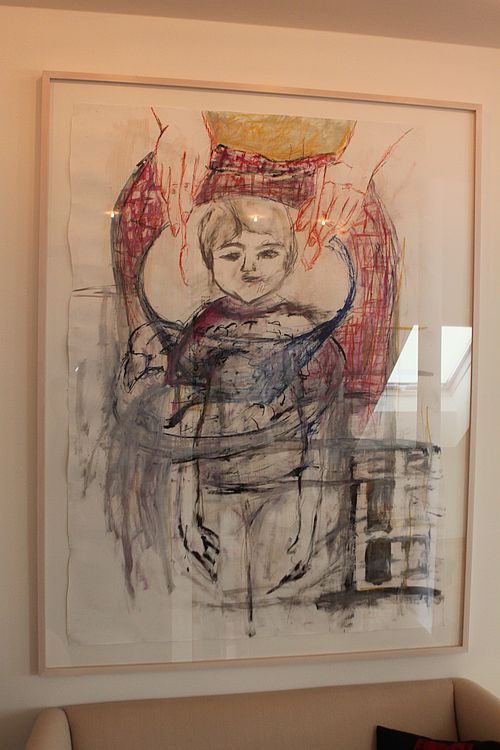 Der König
Kirchengang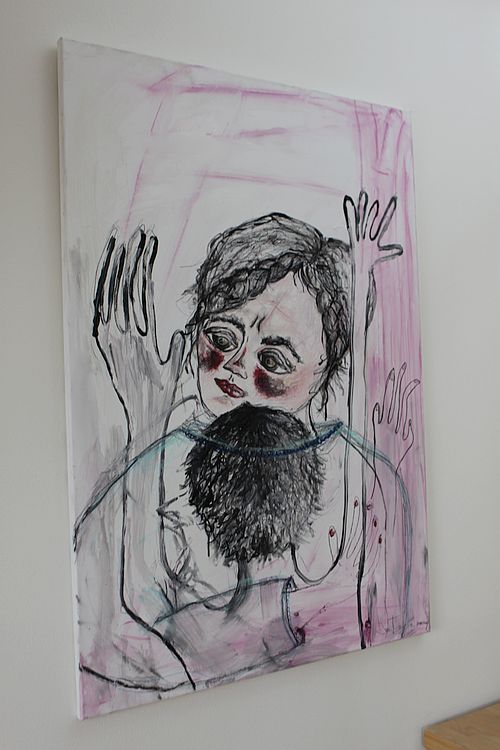 Die umarmung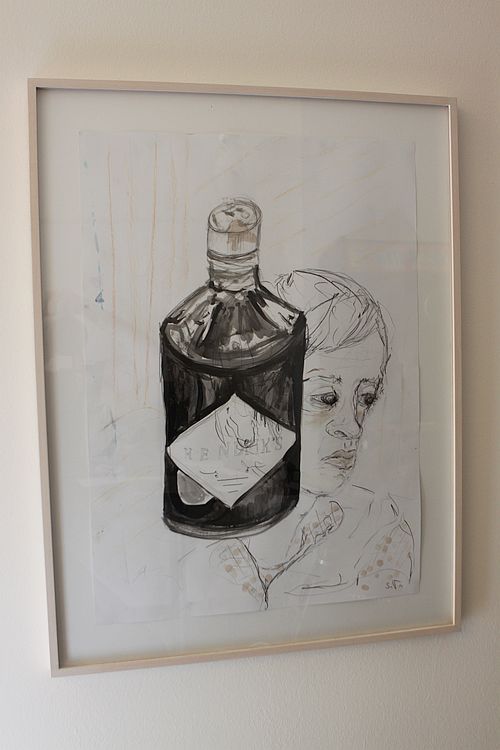 Sperrstunde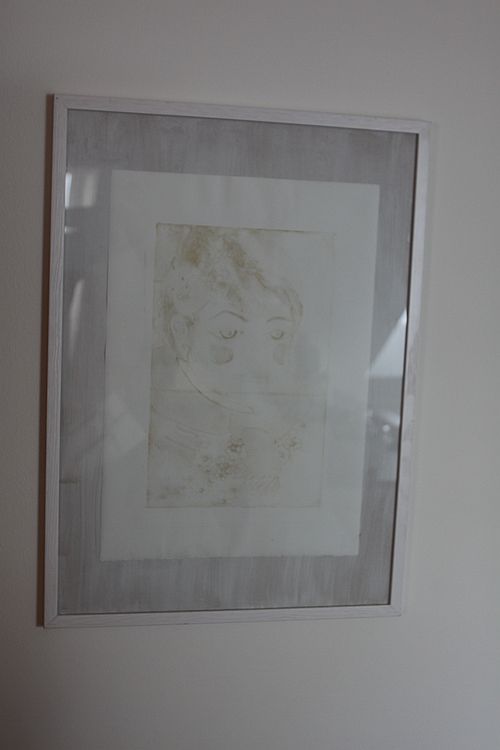 (tiefdruck) einzug ins haus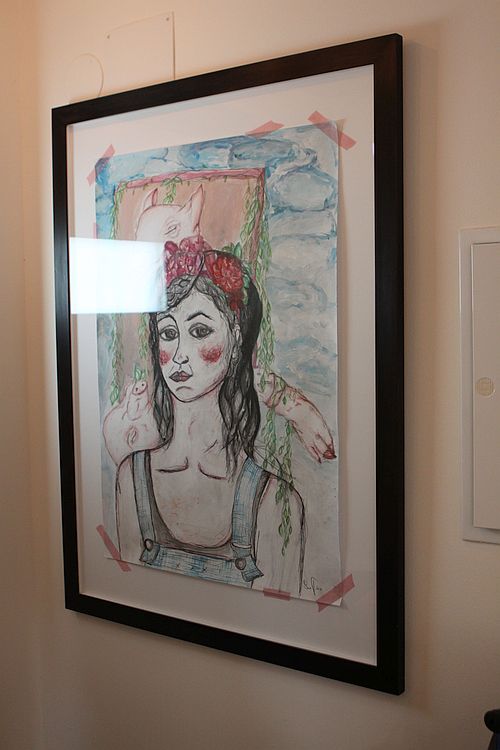 Zwischenspiel am pazifik
PCB Editor
Below some screen dumps from my PCB Editor. I plan to write a short manual, but for now intuition will have to do.
My Vinyls
Even though digital music has been with us for decades now, I stil prefer the sound of my vinyls. Yes, I know - vinyls can be hard to deal with, they get dirty and are heavy, but still I love them. And the feeling of putting a real record on, is second to none.
Hi-Fi Projects
I like to build Hi-Fi equipment myself. It gives me the possibility to play with various setups and change things on the fly. At the same time, I have full control over the component and build quality.
Restoration of a second hand Linn LP12.
My 4 stage tube RIAA/Line preamplifier.
I have built a series of 4 and 5 stage tube preamplifiers with an integrated RIAA preamp. Small signal tubes are actually well-suited for HiFi preamplifiers, as coupling-transformers are not really needed. I have chosen the 6922/ECC88 tubes over the more common 12AX7/ECC83 for more reasons. First of all, the 6922 are low-u/high gm tubes, which makes it easier to control the output impedance of each stage. Secondly, the plate voltage is somewhat lower than the 12AX7 tubes require - the 6922 runs fine on a 100 volts plate B+.
My 5 stage tube RIAA/Line preamplifier.
Updated preamplifier power supply.
In the later versions, I have revamped the power supply to include a regulated heater supply. The reason for this is that I want to be able to use different brands of tubes and they do not all draw the same amount of current. With an unregulated heater supply, the voltage would then vary with the tubes used. And when the heater voltage runs out of specifications, problems like cathode pollution would occur with an audible hiss as a result. The first test-run of my new power supply was perfect - after a wrong track was corrected.

I've already made some new boards and have a version that runs perfectly without the need for board changes. One amp has already been retrofitted with a clear reduction in noise - now I have to retrofit all my amplifiers.
Yet another amplifier.
I am in the process of building yet another 5-stage 6922 amplifier. The hardware/PCB for the amplifier has been done, and I just need to mount all the components and wire the tube sockets. I have considered to make a design with PCB mounted tube sockets, but having repaired old tube-based televisions, I've seen first hand how a PCB gets destroyed by the heat emission from the tubes, so I dropped the idea. By using my design with the L-shaped bracket for the tube sockets, I will never have problems with an overheated PCB.
6922 Tubes.
I've tested several tube brands in my 6922 preamplifiers, and have found the 6N23P Voskhod to be the most "musical" of them all. They are actually NOS and have been used in all kinds of equipment during the Soviet era and are readily available. The problem is that their specs are highly variable, so they all have to be tested and matched before use. There are several production runs of these tubes, pre-1980, 1980-2000 and post-2000. The post-2000 internals is like the Electro Harmonix 6922 which can be bought as new. The 1980-2000 build is by far the most abundant.
RCA Power Amplifier.
I am currently building my own version of the somewhat famous RCA power stage from 1970.

This stage is used in more commercially available amplifiers like the NAIM NAP-250. I have made quite a few modifications to the original design, most importantly I have decoupled the input stage from the driver/power stage of the amplifier to lower noise and improve stability. I have never been a huge fan of the NAIM power regulator boards as they just give a higher output impedance than a more simple rectification circuit does. So I have designed a low-impedance rectification circuit to feed the amplifier boards.
Lohstroh & Otala Power Amplifier - The LOHTALA 80
Jan Lohstroh and Matti Otala did back in the 1970's research on how to make a better sounding solid state power amplifier. Back then, tube amplifiers were still in common use, and many did not like the "transistor sound" from the new emerging amplifiers.

The Lohstroh and Otala design has been in use ever since by the Norwegian company Electrocompaniet which has build a host of wonderful sounding amplifiers. The only drawback to most of the Electrocompaniet amplifiers is that the often break. Where a Japanese made receiver goes on and on for decades, a soldering iron is a must when you run one of those Norwegian amplifiers. Back when Per Abrahamsen was in charge of Electrocompaniet, the company was quite willing to help with schematics to be able to service a blown amplifier, but nowadays with the new owner, that has sadly enough changed for the worse, with a quite posh attitude by the company.

That is why I decided to build my own version of an Electrocompaniet amplifier, using the Lohstroh and Otala design, instead of buying a new one from the company. This way I can remedy the most common faults in the design phase and be able to easily service the amplifier.

As the Lohstroh and Otala design runs hot, and the amplifier uses BJTs, it is of utmost importance to prevent thermal runanway. Therefor the Vbe multiplier needs to be placed as close as possible to the output and driver stages and definitely on the same heatsink. I decided to build the amplifier as a semi-dual-mono, where I only share the mains transformers. By overrating those by a huge margin, the impact of not having ones for each channel is marginal.

I have made my first prototype build, and it ran perfect. Just some minor tweaks to the PCB are needed, and I am on the track to one of the best solid state amplifier designs ever made.

My first version of the LOTHALA 80 is wonderful - but there is room for improvement. The issue lies in the long-tail differential input stage, where one input is used for signal and output feedback, and the other is used to set the DC operating point via. an integrator (servo). The input impedance is so low, that I used an op-amp in a buffer configuration to drive the amplifier. As such an op-amp buffer relies heavily on negative feedback, this will impact the entire design. The soundstage is very wide, but clearly suffers from the negative feedback in the op-amp.

I decided to replace the op-amp buffer with a push-pull class A pre-stage which will then drive the long-tail differential pair - a somewhat scaled down version of the Lohstroh & Otala design itself. My pre-stage has no feedback at all, and I hope this will open the soundstage even more.

The two amplifier boards are now assembled and successfully tested - just perfect. Now I need to get all the parts mounted in a suitable case, and I am done. Instead of putting heatsinks on all the power parts in both my new pre-stage and the pre-driver-stage, I have opted to have both boards air cooled by means of two low-rpm fans. This will ensure longeivity of my amplifier and avoid many of the problems that plague the Electrocompaniet amplifiers. The tricky part in having an air cooled semi-class A amplifier is to set the operating point. In the pre-stage, I have to set the balance in the long-tail input stage, and in the output stage, I have to set the Vbe voltage which controls the idle current. Before I set this operating point, an equilibrium between heat dissipation and cooling has to be established. That is why, I cannot use a temperature controlled fan that switches on and off - something Electrocompaniet did to prevent burn-out of the ECI-4 amplifier they made some years ago. Even with the fan, some of the power parts in the ECI-4 could reach a case temperature of almost 90 deg. celcius - I will not even try to guess the junction temperature. The reason for this is partly that Electrocompaniet simply botched a fan on the back of the heatsink fins - not very clever, indeed. This problem is sadly enough quite common in many of Electrocompaniet's amplifiers - they run way too hot, and with in-case heatsinks it can only go wrong.

I have now finished the air cooled version of version 1 of my LOHTALA 80 amplifier boards. This is how Electrocompaniet should have done it, to prevent the common burn-outs - but sadly they didn't. The case temperature of all power parts are around 30 centigrades when idle and the two output transistors reach 45 centigrades when fully loaded, so the junction temperatures are well under 100 centigrades - just perfect. The most loaded resistors are raised 10mm from the PCB to ensure air flow around them. My design is compact, stable and will run for decades at full power without a glitch. Should the fan fail, the heatsink will prevent immediate overheating. I'll cool my second version of my LOHTALA boards excatly the same way.
My Tube Tester
When dealing with tube based equipment it is equally important to be able to test tubes, and I realized I was in need of a tube tester. Back in the 50's and 60's, tube testers were commercially available, but nowadays they are an almost extinct species, which left me with two options. Either I had to buy a vintage tester and give it a major overhaul or build a new one from scratch. I opted for the latter as I found an excellent design done by Steve Bench. I used his basic design and modified it to my own needs.
MAME Box
This album shows the Step by Step process that I went through when I was building my arcade cabinet. The cabinet is used for both real arcade games where I have bought the entire electronics (boards, EPROMs etc.) from scrapped arcade machines, and for MAME. But as it takes time to change boards, I've dumped the EPROMs and use them with MAME instead. Further, I can avoid the use of the special graphics adapter that is needed when I run the original boards with a modern monitor. It was somewhat problematic to dump the very old EPROMs (eg. 2708), as they needed more voltages - often negative - than their modern counterparts that run off a single 5 volts supply.